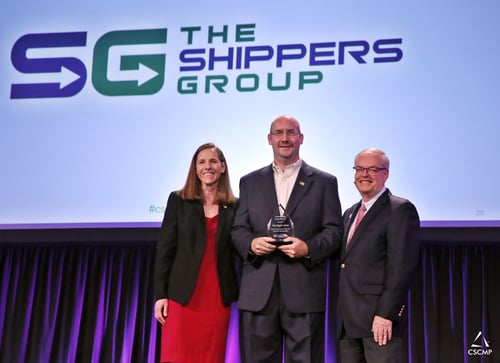 Warehouse logistics companies are in a unique position to donate transportation, labor, space and aid in natural disasters. The Shippers Group has teamed up with the American Logistics Aid Network (ALAN) to provide relief efforts during the greatest times of need. In October, ALAN recognized these efforts by naming TSG as one of the 2018 Humanitarian Logistics Award recipients during the CSCMP EDGE Conference, Sept. 30 – Oct. 3 in Nashville, Tennessee.

"We are humbled to take action and support those in need when a natural disaster strikes. These are the communities of our employees and our customers, and we consider it our duty to help whenever and however we can," says Rob Doyle, president of The Shippers Group.
ALAN is a philanthropic, industry-wide organization that provides free logistics assistance to disaster relief organizations. It utilizes the expertise and resources of the logistics industry through coordination of supply chain services for natural disasters including hurricanes, wildfires, tornadoes and floods.
According to the organization, ALAN's Humanitarian Logistics Awards recognize companies and individuals who exemplify the best that the supply chain has to offer by assuring that aid and comfort are rapidly delivered to communities in crisis. The Shippers Group received ALAN's Outstanding Contribution Award, for donating space and labor in Atlanta that helped non-profits provide comfort to families returning home after Hurricane Harvey and safe clean-up of Caribbean communities after hurricanes Irma and Maria.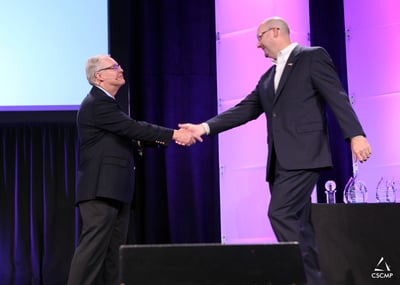 The Shippers Group has several key locations around the southeastern and southwestern coastlines that make it an ideal disaster relief partner. In fact, TSG has 4.5 million square feet of multi-client and dedicated warehouse space in 11 locations in 5 states including California, Georgia, Illinois, Texas and Virginia.
"Each of these recipients is living proof that humanitarianism isn't just a one-time event – and that true service extends well beyond a single disaster," says Kathy Fulton, Executive Director of ALAN. "We're grateful to them for the many contributions they have made, and we are proud to recognize them today."
To learn more about ALAN visit http://www.alanaid.org.

---
Picture 1: Kathy Fulton, ALAN Executive Director, Rob Doyle, President of The Shippers Group and Mark Richards, ALAN Vice President.
Picture 2: Rob Doyle, President of The Shippers Group accepts the Outstanding Contribution Award from Mark Richards, Vice President of ALAN.