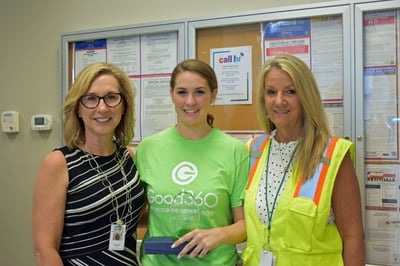 Good360, ALAN and The Shippers Group have partnered together to aid hurricane victims, and for The Shippers Group's contribution, Good360 has chosen to recognize their Operations Team in Austell, Georgia with the Circle of Good Award.
Kaitlin Fitzgerald, Program Development Coordinator for Good360, visited The Shippers Group in their Austell, Georgia facility recently to honor the team for their willingness to provide warehouse space to Good360. This allowed the organization to not have to turn down donations of wet vacs, crowbars, brooms, industrial cleaners and other restoration supplies because the humanitarian organization did not have space to store them all. When Good360 ran out of space for donated supplies, they reached out to the American Logistics Aid Network known as ALAN. ALAN connected Good360 and The Shippers Group. "We had space and they had a need, so when ALAN contacted us and asked if we could help, it was perfect timing," said Shippers Group President Rob Doyle.
On behalf of Good360, Kaitlin expressed gratitude for the generosity of The Shippers Group and presented the Circle of Good Award to Kristie Jeng, VP of Atlanta Operations, and Robin Siekerman, VP of Marketing and Customer Solutions, at The Shippers Group. Learn more about Good360 and ALAN. For more information from The Shippers Group, please request a quote.