National Hire a Veteran Day is observed every year on July 25th and encourages employers to consider veterans in their employment and hiring strategies. This day provides awareness and serves as a platform to show that our veterans are qualified and trained and looking for jobs.
Creating and filling opportunities to employ veterans is an important part of our hiring strategy here at The Shippers Group. As our President, Rob Doyle, is a veteran himself, this was an initiative that has been given much focus since his joining of the company. Rob, along with the Shippers' team, recognized the need to help our veterans successfully transition to the civilian workforce.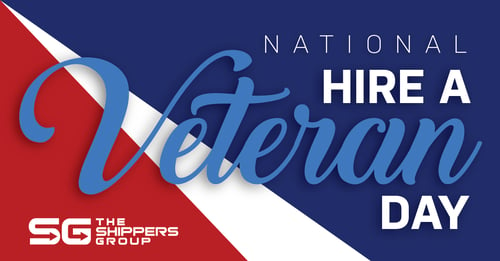 Our leadership team has supported these efforts by partnering with HR cross-functionally to develop a meaningful diverse and veteran-inclusive program. With several members of our leadership having a military background, we work together through recruiting, training, and mentorship to support this underserved population as they adapt to their new careers.
"Not only did our veterans selflessly put on their uniform to protect the values and liberties this country was built on, but they also brought back the lessons they learned and experiences gained to strengthen our communities and our civilian workforce. That is why we remain dedicated to increasing the number of veterans hired each year and ensuring our strategies focus on retention and setting them up for success.

We hold our veterans in high esteem as each one of them brings diverse skills and experiences to build and lead our teams. It has been outstanding to see the number of veterans at our company grow as they add such richness and espirit de corps to our 121-year company history."

- Rob Doyle, President
We encourage other employers to educate themselves on this need and to do their part in helping these heroes and their spouses find a career that is right for them. For more information about hiring veterans, you can visit the Department of Labor's Employer Guide to Hiring Veterans.
Thank you to all veterans for your service to this country. Our freedom is credited to you, so today, and every day, we remain dedicated to supporting our veterans as they take the next steps in their careers and transition into the civilian workforce.
---
The Shippers Group is continually on the search for new talent.
If you are a veteran seeking a new position, we encourage you to check out our job openings and apply today, or you can visit our Contact Us Form and fill out your information, notating your status, and our HR team will be in touch with our available opportunities that might be right for you.
---
The Shippers Group is a leading national third-party logistics company headquartered in Dallas, Texas with distribution facilities in Texas, Georgia, Florida, and Virginia totaling 11 locations and over 5.2 million square feet of space. In addition to warehousing and transportation services, the company provides contract packaging and e-commerce fulfillment to the food, consumer goods and automotive industries. The Shippers Group was founded in 1901 and today employs over 1,500 associates nationwide.