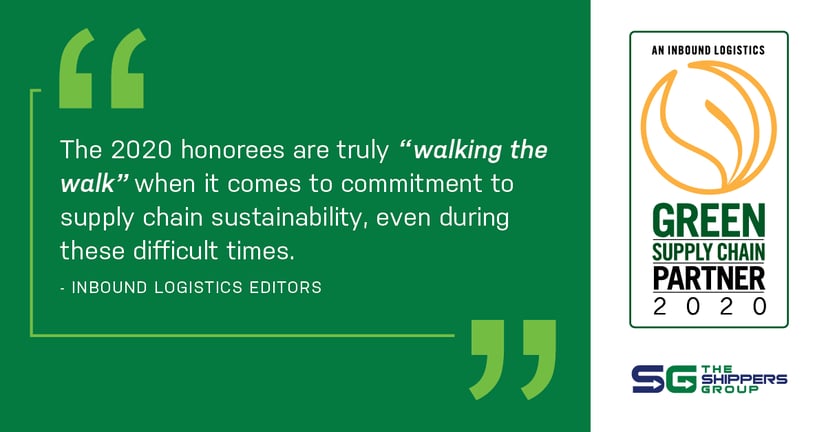 For four years in a row now, The Shippers Group has been chosen as an Inbound Logistics Green Supply Chain Partner. G75 partners are chosen based on four benchmarks: Measurable green results, sustainability innovation, continuous improvement, and industry recognition.
The Shippers Group has developed a pro-active approach to ensure the long-term viability and integrity of our company by optimizing resource needs; reducing environmental, energy, or social impacts; and managing resources. The specifics of our program benefit our customers, employees, company, and planet, all while enhancing our ability to increase profits and remain in business for the long-term.
It is our policy to be a good corporate citizen and protect the environment to the best of our ability. Specific actions we take to protect the environment include:
Reduction of Greenhouse Gas
Where possible, we use low-emission technology – such as purchasing more efficient vehicles, trucks, and machinery. Carpool is encouraged and remote work is practiced numerous days a week by several of our employees, which greatly reduces the amount of emissions polluted each year due to fewer commutes.
Purchasing
Strong consideration is given to products that minimally impact the environment such as items made of recycled or renewable materials, or items that are rated as energy efficient.
Care of Local Animal and Plant Population or Habitat
Care is taken to not disturb the local animal and plant population or habitat. This is accomplished by reducing the noise, dust, and vibrations to the lowest level possible and by replacing and/or restoring damaged plant populations or habitats to the original condition before construction and/or work takes place.
Efficient Material Management System
Care is taken to order exact materials needed for a particular job instead of ordering "about" what is needed. This reduces the waste of unneeded products. After completion of jobs, reusable materials are kept and reused, and all waste materials that can be repurposed are recycled or salvaged.
Energy Conservation
To reduce the use of energy, employees are instructed to not leave vehicles and equipment unnecessarily idling, and when equipment is not in use, it is to be shutdown. Energy efficient lightbulbs are also utilized. When purchasing new equipment, consideration is given to items utilizing new energy efficient technology that have the ENERGY STAR mark.
Water Conservations
Practices are taken at all our locations to limit the amount of water used or wasted. In addition, immediate repairs are made to any leaks on hoses, pipes, faucets, or equipment. For cleaning purposes, continuous running of water is avoided, and instead, water saving techniques are practiced.
Employee Education
Employees receive informational training on conservation and are encouraged to do their part as citizens to take care of the environment and make the earth a better place to live. Training is taught by competent persons utilizing ISO 26000:2010 and/or other appropriate training materials.
A complete copy of our sustainability efforts can be found in The Shippers Group Sustainability Policy.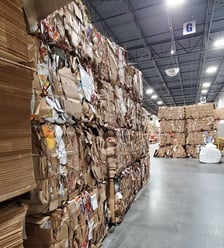 In addition to our Sustainability Policy efforts, as part of our Texas Emissions Reduction Plan (started in 2007), one of our most notable achievements entails having recycled about 5 million pounds of cardboard, chipboard, paper, and plastic.
The Shippers Group is committed to preservation and to the best of our ability, will continue to limit pollution and energy consumption, reduce waste, keep our employees informed of environmental issues, and when possible involve our suppliers and contractors in environmental awareness. We are dedicated to making a meaningful commitment to our communities and our environment and will continue to develop and execute forward-thinking sustainability policies.
For more information on TSG's accolades and awards, please click here.