On August 17th, National Nonprofit Day recognizes the goals and positive impacts nonprofits have on communities and the world. Awareness, research, and aid are able to reach the people around the world who need it because of the work nonprofits do. Therefore, it is so important to support our nonprofits through various efforts such as volunteering, donating, and helping raise funds.
The Shippers Group recognizes this importance, which is why we created our Shippers Gives Back program – our commitment to give charitably through a variety of efforts that help the underprivileged and build relationships within our communities. In conjunction with our Give Back program and National Nonprofit Day, a few members of our team in Atlanta spent Wednesday morning sorting through donated books at Books For Africa. Their efforts not only helped to make sure these books reached Africa, but also reach the right demographics within their communities.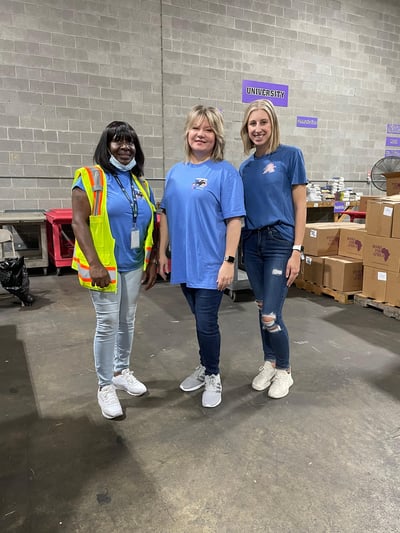 Pictured from Left to Right: Ionie Farquharson, Michelle Belcher, and Maggie Harvey
In addition to leisure reading books for all ages, subject books are provided to schools and the youth to provide learning opportunities they would not have otherwise. Higher level course books and teaching resources are also provided to adults wanting to further their education and change their career path. Students are eager to learn and teachers are motivated to teach, and with these books we are able to enhance their capacity and potential.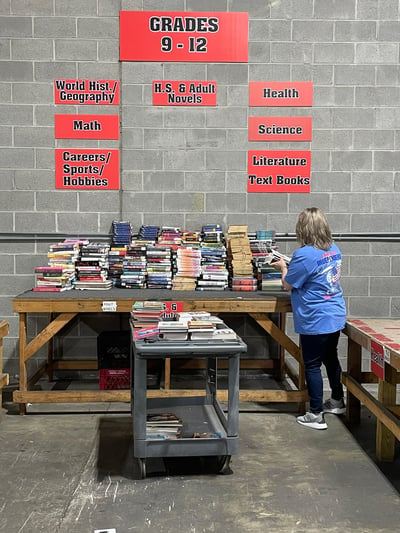 It is always such a rewarding experience to participate in volunteer events like this as it puts in perspective just how fortunate we actually are. Books are in such a surplus here in the states that we tend to take them for granted – often times just sitting on our shelves never being opened. Most African children who attend school have never owned a book of their own. In many classrooms, 10-20 students share one textbook.
Access to an education is one of the only opportunities young people have to end the cycle of poverty and attain a better quality of life than previous generations. We are grateful for the opportunity to be a part of such a life-changing mission, and our team will definitely be back again to help further their reach!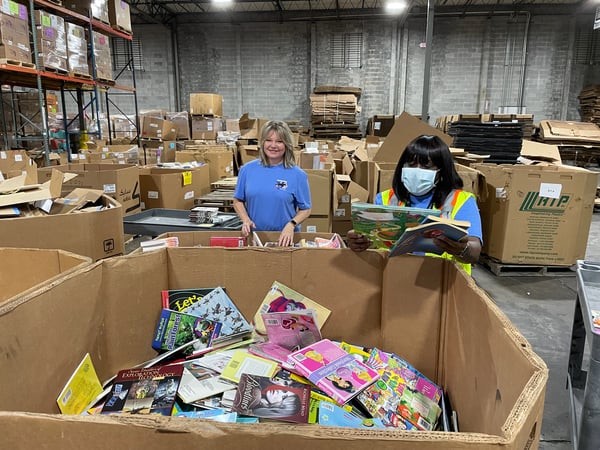 Books For Africa remains the largest shipper of donated text and library books to the African continent, shipping over 55 million books to all 55 countries within the continent since 1988. Last year alone, Books For Africa shipped 3.2 million books, valued at over $26.7 million, and 355 computers and e-readers containing over 1,065,000 digital books, to 27 African countries. This year, they are aiming to ship 4 million books!
---
About Books For Africa
Books For Africa was founded upon a singular mission: to end the book famine in Africa. BFA collects, sorts, and ships books, computers, tablets, and library enhancement materials to every country in Africa. In collaboration with worldwide donors, publishers, and African partners, we provide the tools of empowerment to children and students across Africa. Our vision is an Africa rich in readers- in classrooms, during leisure time in libraries, and throughout university and prosperous careers. We supply varied, relevant books in English, French, and national languages, computers and tablets with digital content, specialty post-secondary materials, and supplies to create vibrant learning spaces. For more information on how you can get involved as a volunteer of funder, visit Books For Africa.
"Books For Africa is a simple idea, but its impact is transformative.
For us, literacy is quite simply the bridge from misery to hope."
- Kofi Annan, former U.N. Secretary-General
---
The Shippers Group is a leading national third-party logistics company headquartered in Dallas, Texas providing supply chain support to brand leaders and market innovators in industries including food and consumer packaged goods. With food-grade multi-client and dedicated distribution facilities in the United States, The Shippers Group provides supply-chain solutions with outsourced warehousing, transportation, contract packaging, and e-commerce fulfillment services. Since 1901, The Shippers Group has relied on core values of integrity, innovation, excellence, and safety to grow customer relationships, focus on continuous improvement, and engage sustainable business practices that deliver results. More information is available at www.theshippersgroup.com.