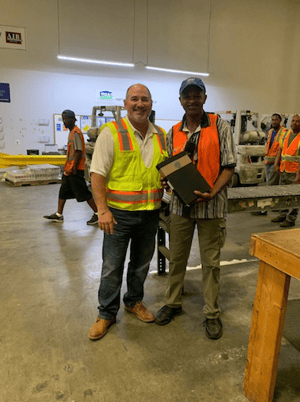 When Tonnie Thompson started working at The Shippers Group in 1974, President Richard Nixon resigned in the wake of the Watergate scandal and Gerald Ford became POTUS. Gas was only $.55 per gallon and a dozen eggs cost $.78. That year the Miami Dolphins defeated the Minnesota Vikings in the Superbowl and The Godfather Part 2 was one of the year's most popular movies. During Tonnie's years at The Shippers Group a lot has changed but one thing that has remained consistent is Tonnie's work ethic and dedication to do his best work every day.
At The Shippers Group, we recently celebrated Tonnie and his 45th work anniversary. Chris Mills, General Manager of TSG's Jonesboro, GA distribution center recognized Tonnie among friends and co-workers pointing out his tireless dedication as an inspiration to all who have the privilege to work with Tonnie. Chris remarked, "We appreciate your many years of service at The Shippers Group and the example you are of our culture of hard work and core value's of integrity, innovation, excellence and safety."

The Shippers Group is proud that many associates across the company have more than 40 years of service with the company. To learn more about our available positions, please visit us here.