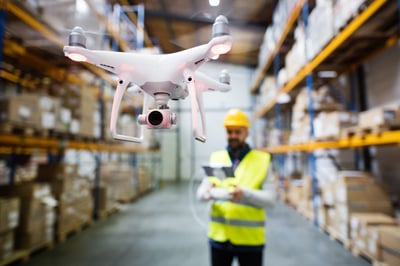 The warehouse has evolved over the years from a place to store boxes to a high technology operation that tracks inventory, provides custom packaging and kitting and manages more than 1 million square-feet of space on any given day. Amy Landers, IT Manager at The Shippers Group, is a big believer in investing in new technologies. "When you add up the costs of something that is usually handled manually and could be handled by automation, it makes a lot of sense," she says.
Here are some of Landers' insights on the next generation of technology and their application to the warehouse environment.
Drones—All of us have heard of drones and we are getting more accustomed to different applications of them. Amazon proved that there are different applications of drones in warehousing and logistics.

According to Landers, drones are much more affordable than they were four years ago. They are also lighter and more manageable. Some drones, she says, don't need a person to operate—you can upload the flight path. Flight times can last one to two hours and drones can recharge in 30 minutes.

Landers' sees drones addressing two immediate needs at The Shippers Group.


Using drones with an outside yard management system. Depending on the location, there could be upwards of 50 to 100 drop and live trailers and 200 doors on any yard at The Shippers Group. "Typically, we need to have someone walk more than a mile on foot to pick up the RFID tags on doors and trailers and input the information into tablets," Landers says. With a drone this task is a lot more efficient and accurate.


Using drones for cycle counting inventory. Cycle counting (or wall to wall counting of inventory on a scheduled basis) is a common practice. Drones are convenient for counting inventory stacked on high racking levels. They can help with those last-minute requests to count a product that needs to be placed on hold. When an individual is tasked with cycle counting they need to use special equipment to reach the top of racks, requiring a lot of time and resources.



Automated lines for production facilities—

"In Europe many warehouses are automated," Landers says. This is especially true for the smaller roles in the warehouse such as sort and pick-and-pack. Facilities that have sort conveyor systems are more economical and eliminate human error. "Amazon led the way in the rate of turn around to having products reach the consumer in two days. So, it can be done." Automated lines contain separators that scan barcodes and kick it off into a certain pile to be processed further. Systems that are not automated require people to interpret and figure out where to put products. "Automation is good for e-commerce customers or packaging lines," she says.



IoT Wearables—The IoT phenomenon has hit our health and personal lives in a profound way. Tools like Google Glass technology and Apple Watch have business applications too. In warehouses, the more hands-free the better. Productivity increases when individuals can use their hands while receiving pick instructions. Landers says wearables integrate well with voice picking, which The Shippers Group is currently using at several locations. Some struggle with audible versus visual learning. But a wearable may enhance the voice experience by providing a visual depiction of the product.