Contributed by: Ken Patterson
President Rob Doyle hosted the first Town Hall Meeting of TSG's newest 122,000 sf facility in Mesquite, Texas. This multi-client distribution facility opened the doors on July 1, 2020 and employs 6 associates on 1 shift presently. With it being a small team and their first town hall meeting, Rob had an agenda of topics to cover prior to opening the floor.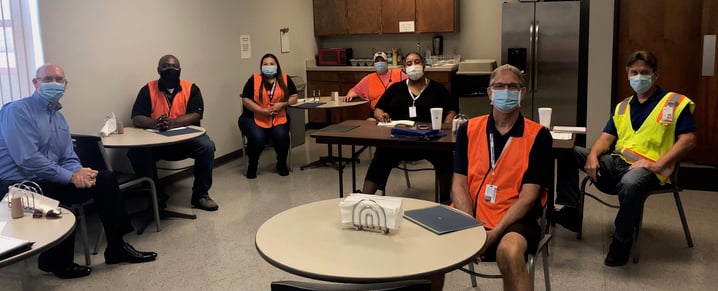 Beyond the customary introductions, he covered the long company history and detailed the steps we are taking to become an employer of choice. The main focus was on communication and keeping the lines of communication open at all levels. He mentioned the Weekly/Monthly Roundup and the All Access newsletter as good examples. Rob also discussed the WOW associate recognition program. Strong emphasis was on working safely and how it is one of our Core Values of Integrity, Innovation, Excellence and Safety.

Associates had questions about the building and what our Marketing & Sales Team is doing to help attract and bring in new customers. While there is still some vacancy in the building, associates expressed concern for job security/staying busy. Rob replied that as the facility ramps up, there are opportunities for hours in other TSG operations in the area. When associates were asked about TSG's responsiveness to the COVID-19 crisis, everyone was in agreement that The Shippers Group is doing a great job addressing the situation, and feels they have been provided information and the needed supplies and materials to work safely during this difficult time.
---
The Shippers Group was founded in 1901 and today employs over 1400 associates nationwide. For more information on The Shippers Group, visit our services page.