Juan Sánchez, Operations Manager; Alex Whiteley, Industrial Engineer and Continuous Improvement Manager; Maggie Harvey, Sales and Marketing Specialist; and Jose Portillo, Operations Manager, recently attended the 2021 IWLA Essentials of Warehousing Course. Taking place in San Diego, CA, this four-day course took a deep dive into all aspects of warehouse logistics and emerging areas of 3PL management.
These four associates represented different departments and locations within The Shippers Group, and were educated on a broad survey of everything that ensures success in the warehouse, including:
Operations
Safety & Security
Personnel & Labor
Marketing & Sales

Laws & Regulations

Management & Leadership
Attendees learned from top industry experts in each of these fields, while also learning from one another by sharing their experiences and knowledge.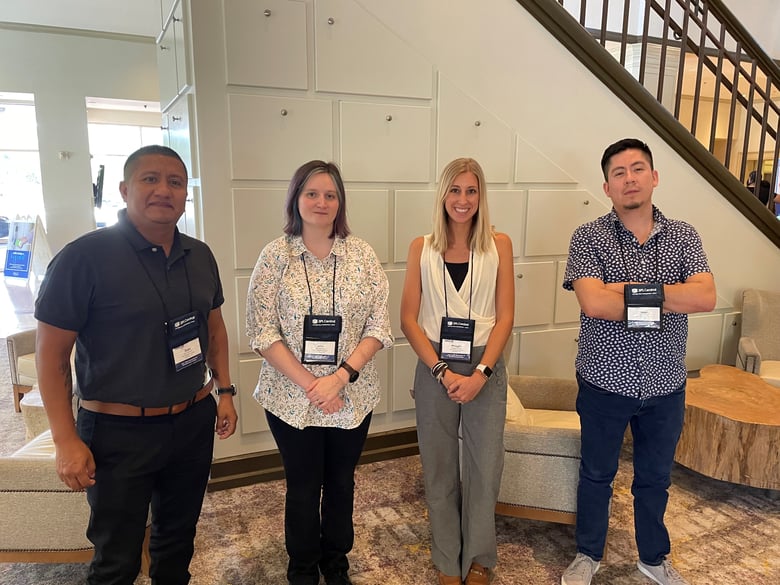 Pictured Left to Right: Juan, Alex, Maggie, and Jose
The attending associates from The Shippers Group had a great time expanding their industry knowledge, as well as networking with peers in their industry. With the knowledge gained, they are already implementing several key takeaways within their respective departments.
---
The Shippers Group is a leading national third-party logistics company headquartered in Dallas, Texas with distribution facilities in Texas, Georgia, California, Illinois, Florida, and Virginia totaling 16 locations and over 6.5 million square feet of space. To learn more about our areas of expertise, visit our Services page.