Today we share the third in a three-part blog series that highlights The Shippers Group associates who have submitted their thoughts on African American History Month. We recently asked associates, "What does African American History Month mean to you?" Read on to hear the response from Cliford Bowens, Operations Manager for The Shippers Group.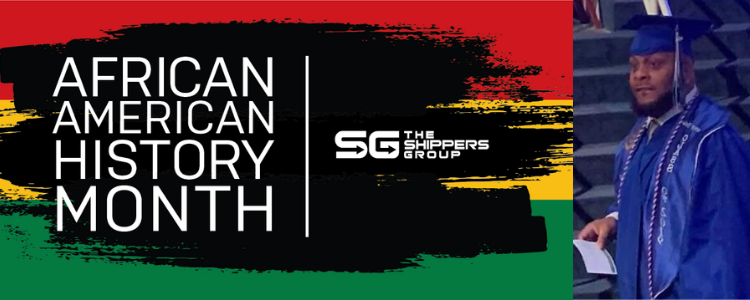 Cliford Bowens, Operations Manager graduated from Northlake College in Irving, TX with his AAS in 2017, and certification in APICS and Senior Level Logistics Management. Bowens then went on to graduate from UNT Dallas with his BAAS in Logistics and Supply Chain Management with a minor in Human Resources in 2019.
Black History Month is the time for America to reflect on the efforts and accomplishments that African Americans have contributed to the success of this great country. I have always felt that without the contributions, trials, and tribulations that African Americans had to endure, that America would not be the country that it is known to be today. The accomplishments of my ancestors have always pushed me to strive for better and accept nothing less than greatness, that they themselves would consider more strides toward a continued lineage of admiration and zeal.

Rather it be Prince Hall (an African American abolitionist and leader in the free black community, credited as the Founder of Black Freemasons), Crispus Attucks (an American stevedore of African and Native American descent, widely regarded as the first person killed in the Boston Massacre and thus the first American killed in the American Revolution), Ira Aldridge (an American and later British stage actor and playwright who was the only actor of African-American descent among the 33 actors of the English stage honored with bronze plaques at the Shakespeare Memorial Theatre), and/or Moses Malone, in 1974, rivaled to the NBA, the ABA drafted the high school star to the Utah Stars, becoming the first player to go directly from high school basketball to a professional league) … the doors African Americans have opened, not just for Blacks, but of all ethnicities always makes February a time that I am overwhelmed with pride. I am proud knowing my forefathers were not mere followers, but trail blazers who felt as though they were not just here to be expendable laborers and/or trade smiths, but professionals who wanted better for our race and Americans as a whole despite the consistent reminders of inferiority and inequality.

I want to personally thank The Shipper's Group for allowing me the platform to express my deepest gratitude and sincere thanks for the people who came before me who not only took risks that cost them their lives for the sake of equality and inclusion, but spent countless hours perfecting their crafts that allow me to become the man I am today!

Psalm 133

Behold, how good and how pleasant it is for brethren to dwell together in unity! It is like the precious ointment upon the head, that ran down upon the beard, even Aaron's beard: that went down to the skirts of his garments; As the dew of Hermon, and as the dew that descended upon the mountains of Zion: for there the Lord commanded the blessing, even life for evermore.
Thank you so much to our associates, for their willingness to provide these meaningful and thoughtful responses.
The Shippers Group is a leading national distribution company with 12 operations in 5 states. The company employs about 1,200 associates. For more information, check out our Services page and let us know how we can help you!