The Shippers Group is pleased to announce the recent hire of Charles Thompson as Director of Operations for our long-term existing customer, a world leader in convenient foods and beverages.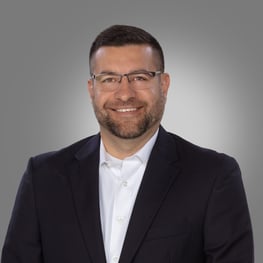 Our decades-long partnership with this customer has led to numerous expansion opportunities. With what has become four dedicated operations nationwide, the need to support the customer's overall operations and its sites' local leadership became apparent. In his new role as Director of Operations, Charles will be responsible for driving efficiencies at all our customer's sites with an overall goal of producing positive earnings and customer trust by hitting and exceeding KPI targets, which include safety, CPH, labor ratios, and reduced turnover.
Charles has a Bachelor's of Business Administration in Transportation and Logistics from the University of North Florida and has been in the warehousing and distribution industry for over 20 years. Over the last 14 years his focus has been on the 3PL side of operations. Prior to joining us full-time, Charles worked for three months as an Operations Consultant for The Shippers Group at two of our customer's sites located in Orlando, FL and Houston, TX. During that time, he successfully identified opportunities to improve CPH and efficiencies that drove positive change. Prior to his consult work, Charles was the VP of Operations for a regional 3PL based in Central Florida, in which he was responsible for the operations for over 10 sites.
"Having someone with Charles' integrity, expertise, and drive to continuously improve will be a key component in helping us pave the path toward operational excellency. He and his position are another building block in our foundation of long-term success here at The Shippers Group."

– Rob Doyle, President
During his free time, Charles enjoys spending time with his wife, Gloria, and their two boys, Charlie (9) and Chase (7). As their boys get more involved in their schooling and sports, they are constantly on the go, and they wouldn't change a bit of it!
When asked about joining the team, Charles responded, "I am excited to come on board with The Shippers Group, an organization that has an appetite for responsible growth. It's an amazing opportunity to work with leaders such as Rob Doyle, someone I fully respect and trust. His leadership is evident in the genuine culture found throughout the organization. I am happy to be part of the TSG team!"
Congratulations, Charles!
---
The Shippers Group is a leading national third-party logistics company headquartered in Dallas, Texas providing supply chain support to brand leaders and market innovators in industries including food and consumer packaged goods. With food-grade multi-client and dedicated distribution facilities in the United States, The Shippers Group provides supply-chain solutions with outsourced warehousing, transportation, contract packaging, and e-commerce fulfillment services. Since 1901, The Shippers Group has relied on core values of integrity, innovation, excellence, and safety to grow customer relationships, focus on continuous improvement, and engage sustainable business practices that deliver results. More information is available at www.theshippersgroup.com.