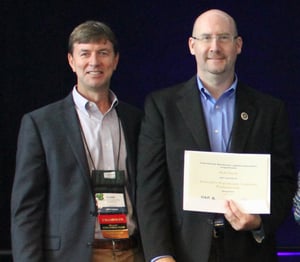 The International Warehouse Logistics Association (IWLA) held their annual conference earlier this month in Savannah, Georgia. Rob Doyle, President and Hugh Tait, Snr. VP of Customer Solutions were at the conference on behalf of The Shippers Group. IWLA offers outstanding education and support resources to the warehousing industry. Rob Doyle is past chairman of the IWLA and Hugh Tait volunteers his time to instruct IWLA members about productivity, rates and sales.
At this year's conference, Rob Doyle was recognized, by current chairman Frank Anderson, for his completion of the Executive Warehouse Logistics Profession earning his EWLP designation. In response, Rob said, "It's an honor to reach the EWLP certification and I appreciate that IWLA continue to find ways for members, regardless of our role or titles, to continue to learn and grow in this industry."
IWLA is a trade organization that provides education, government advocacy, and resources to help warehousing providers thrive in their industry. The organization provides a variety of educational symposiums from warehousing law to technology and operational efficiency for it's members. On this year's conference, Rob explained, "It was great to see many friends and colleagues in Savannah and to be able to congratulate our chairman Frank Anderson on a great year as well as welcome our new chairman Brett Mears. Conference organizers knocked it out of the park with the educational offerings and it's always great to hear we're doing so well as an organization at the annual business meeting."
For more information about IWLA, visit www.iwla.com.
Pictured Frank Anderson, Chairman IWLA and Rob Doyle, President The Shippers Group