Veterans Day is observed every year on November 11th and honors all Military Veterans who served in the United States Armed Forces. It is a day in which we show our respect and appreciation for our Veterans for their patriotism, love of country, and willingness to serve and sacrifice for the common good.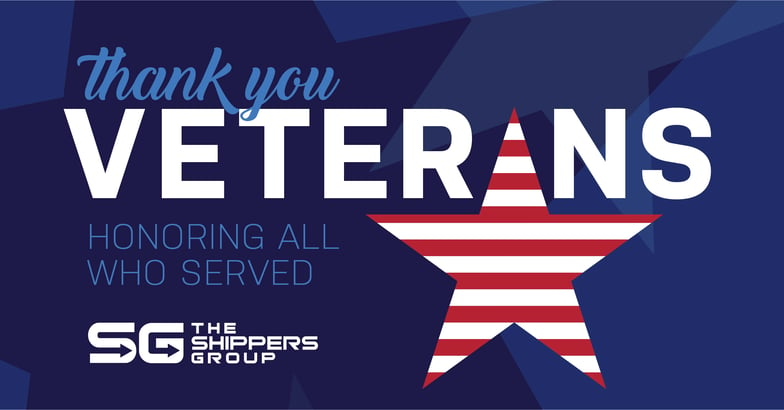 2020 is a significant year as it marks the 75th Anniversary of the end of WWII, the 70th Anniversary of the beginning of the Korean War, and the 30th Anniversary of both the end of the Panama Invasion and the beginning of Desert Shield—anniversaries which recall our triumphs and honor our losses.
This year's theme for Veterans Day is "Vision: Veterans in Focus" and it couldn't be timelier for us here at The Shippers Group. President and Veteran, Rob Doyle, had this to share about the Veteran initiatives he has been leading at TSG:
"We thank all of our Veterans for their service and sacrifice for our country and we would like to salute them on Veterans Day. I am proud of our efforts as a company to add more and more Veterans to our family here at The Shippers Group, an effort which will certainly continue long into the future. Veterans bring very diverse skills and experiences to our workforce and are a key component of our diversity and inclusiveness efforts. We are very proud of our Veterans and feel very fortunate to have them on our team as they add such richness and esprit de corps to our 119-year company history."
In recognition of Veterans Day, The Shippers Group would like to honor our associates for their dedicated service in the US Military. Not only did these service members put on their uniforms to protect the values and liberties this country was built on, but they also brought back the lessons they learned and experiences they gained to strengthen our communities and our company:
ARMY
Cliford Bowens, Wintergreen 1
Curtis Riggins, Jonesboro Public
Dale Littles, Wintergreen 1
Darren Washington, Austell
Donald DeGrace, Austell
Donald Gardfrey JR, Jonesboro Packaging
Lashea Harvin-Scott, Austell
Melissa Sotomayor, Orlando
Wendell Guy, Austell
MARINES
Rob Doyle, Corporate
Efrain Barajas, Austell
James McClendon, Austell
Kyle Banks, Austell
Pharis Jackson JR, Jonesboro Packaging
Silas Edwards, Richmond
Robert Marques, Wintergreen 2
Ezequiel Cisneros, Rialto
NAVY
Carl Greear, Grand Lakes 1
Deves Parram, Grand Lakes 1
Johnny Caldwell, Grand Lakes 1
Davin Daniels, Richmond
AIR FORCE
Kevin Holiday, Wilmer
Mark Wallen, Corporate
To recognize and reflect on the service and sacrifice of all Veterans, The Veterans Day Moment of Silence calls on all Americans to observe two minutes of silence on Veterans Day, beginning at 3:11 PM Atlantic Standard Time. By coming together as a nation with a moment of silence, we relay a powerful message of appreciation to our Veterans for everything they have done for our country. Join The Shippers Group in observing the moment of silence at these times: 2:11 p.m. EST; 1:11 p.m. CST; 12:11 p.m. MST; 11:11 a.m. PST; 10:11 a.m. AKST; 9:11 a.m. HST.
---
"Looking back on centuries of Veterans' service and sacrifice and what we have learned from the past, we must always maintain the vision for the future of Veterans. Putting the Veteran at the center, on Veterans Day we continue to honor all who served, while focusing on the needs of the next generation of Veterans."

– Veterans Administration Statement
---
The Shippers Group was founded in 1901 and today employs over 1400 associates nationwide. For more information on The Shippers Group, visit our services page.