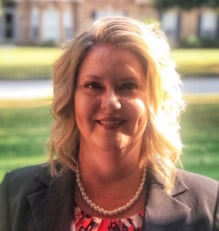 Michelle Belcher brings over 20 years of HR experience to TSG in her role as Human Resources Manager. She began her HR career in the area of recruiting and has since worked in most areas of the Human Resources field to include Employment Law and Regulatory Compliance (Federal & Multi-State), Safety Training and Program Development, Benefits and Payroll Administration, Performance Evaluations, Management Coaching, Worker's Compensation, Employee Relations and Retention, Investigations, Policy Implementation and Training, DOT Regulations, and more.
Her career and experience in Human Resources has primarily been in the Warehousing and Distribution industries. Prior to joining TSG, Michelle spent 11 years with Georgia Crown Distributing Company and she was with Distribution Services of Atlanta/Amware Logistics prior to that for over 8 years.
In her role as HR Manager at TSG, Michelle will be supporting our GA, VA, IL and CA locations. She will be working one-on-one with employees and supervisors/managers to ensure that all sites operate in a way that is best for the company and our associates (our GREATEST ASSET)!
Michelle is passionate about employee engagement and enjoys helping employees identify their own strengths, and have an understanding of how important their contributions are in working toward the company's and their own successes.
"Although I have a lot of experience under my belt, every day presents new challenges and new opportunities to learn. No day is ever the same in HR!," shared Michelle. "At the end of the day, if I can say that I've done the "right thing" for my company AND for the employees, I've had a successful day."
"In the short period of time that I have been with TSG, I have been able to observe some of our managers in action," Michelle continued. "As much as we would like to have every day be a piece of cake, that simply isn't realistic. Some situations will require tough decisions to be made and tough conversations to be had - and that's ok. By continuing to handle these situations as I have seen them handled and continuing to follow the "golden rule" when dealing with all employees, we will all be successful!"
On the weekends, Michelle enjoys spending time with family and friends, shopping, eating, attending outdoor festivals/events and binge-watching her favorite shows.
---
The Shippers Group is a leading national third-party logistics company headquartered in Dallas, Texas with distribution facilities in Texas, Georgia, California, Illinois and Virginia totaling 11 locations and 5 million square feet of space. In addition to warehousing and transportation services, the company provides contract packaging and e-commerce fulfillment to the food, consumer goods and automotive industries. The Shippers Group was founded in 1901 and today employs over 1200 associates nationwide. For more information on The Shippers Group, visit our services page.