Observed every year on November 11th, Veterans Day honors all military veterans who served in the United States Armed Forces. While veterans deserve our respect every day, this day serves as an opportunity to outwardly show appreciation to the selfless individuals whose patriotism and willingness to sacrifice for the common good brought and kept our country's freedom.
May we all take a moment tomorrow to reflect on their courage and sacrifice as we stand united in appreciation for all our veterans.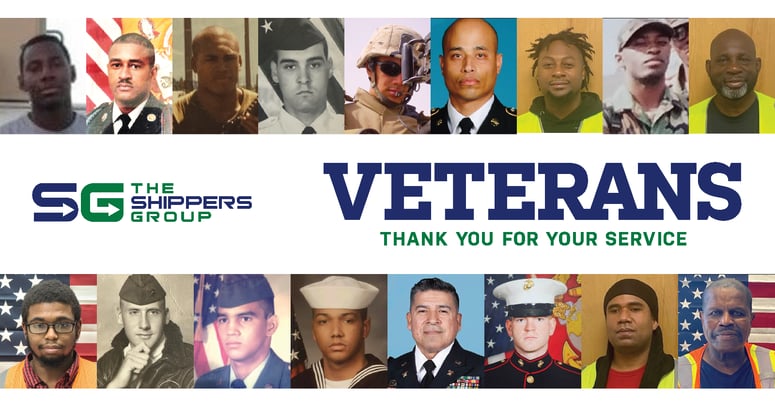 To commemorate this significant day, The Shippers Group wanted to pay tribute to our esteemed veterans. In appreciation for their service - both to our country and to our company - veteran associates and their spouses were invited to a dinner celebration where they received personalized thank-you packages. Furthermore, we demonstrated our support on a broader scale by contributing to the Wounded Warrior Project, and by planning an upcoming volunteer event.
It is our most sacred responsibility to take care of and serve our veterans, which is why we remain committed at The Shippers Group to meeting the needs of our veterans and developing a meaningful program to help veterans succeed in the civilian workplace.
"To our Courageous Veterans here at The Shippers Group - Thank you for your service, sacrifice, and valor. The impact you have on our organization is significant as your leadership, selflessness, and dedication to service are an engrained part of our company culture. The debt to each of our Veterans here at TSG can never be repaid, but you have earned our undying gratitude and we will never forget your sacrifice. Your presence makes our company stronger and more capable while adding richness to our company's legacy. Thank you for your service to our country and to The Shippers Group!"



–

Rob Doyle, President, The Shippers Group, USMC, Retired


Army
Lonnie Holman, Austell
Donald Degrace, Austell
Dale Littles, WG1
Ivan Nieves, Orlando
PJ Sotomayor, Orlando
John Sims, Jonesboro
Jesus Martinez, Wilmer
Eugene Macklin, Orlando
Marine Corps
Tristen Armour, Austell
Eiron Kirlin, Jonesboro
Mark Harvey, Jonesboro
Rob Doyle, Corporate
Robert Marquez, WG2


Navy
Josh Dowdy, Jonesboro
Paul Mills, Wilmer


Air Force
Mark Wallen, Corporate

National Guard
Gaston Holloway, Jonesboro
Thank you to all members of our military, both past and present, for your courage and sacrifice. Our freedom is credited to you, so today, and every day we honor you.
---
The Shippers Group is a leading national third-party logistics company headquartered in Dallas, Texas providing supply chain support to brand leaders and market innovators in industries including food and consumer packaged goods. With food-grade multi-client and dedicated distribution facilities in the United States, The Shippers Group provides supply-chain solutions with outsourced warehousing, transportation, contract packaging, and e-commerce fulfillment services. Since 1901, The Shippers Group has relied on core values of integrity, innovation, excellence, and safety to grow customer relationships, focus on continuous improvement, and engage sustainable business practices that deliver results. More information is available at www.theshippersgroup.com.