National Hire a Veteran Day encourages employers to consider veterans in their employment strategies and to fill their open positions. This day provides awareness and serves as a platform to show that our veterans are qualified and trained and looking for jobs within the civilian workforce.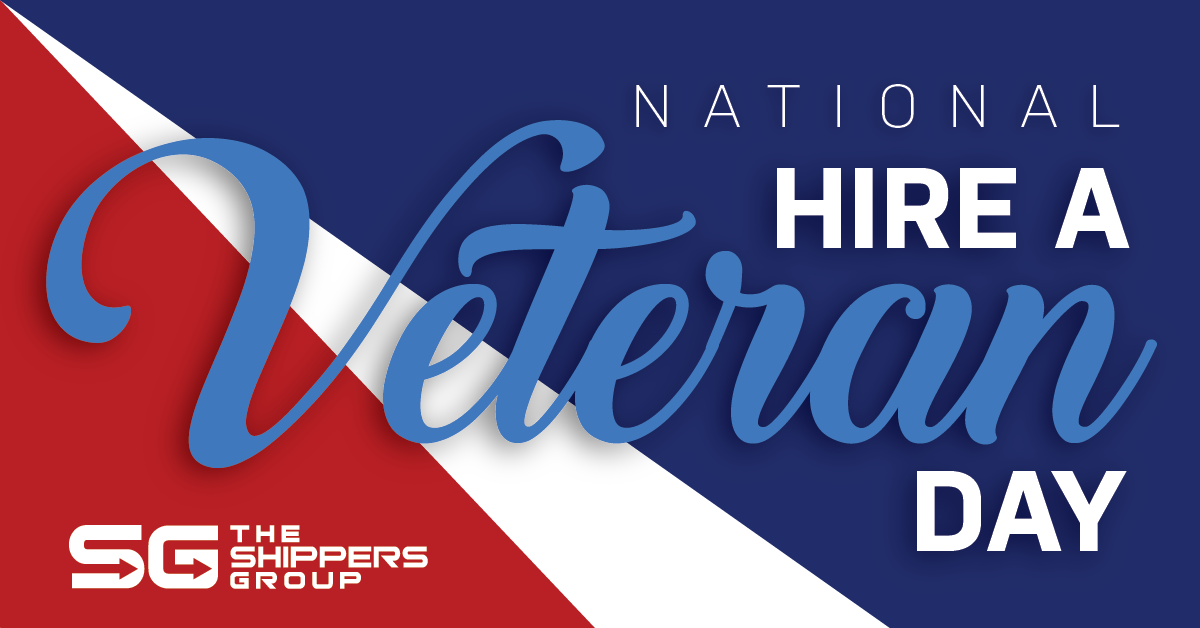 According to a recent LinkedIn Study, 33% of veterans are underemployed – meaning not having enough paid work or not doing work that makes full use of a person's skills and abilities. Our government spends millions of dollars to train these individuals, but they often get overlooked in jobs for the individual with the credit toward a professional degree. This also goes for military spouses because of their frequent relocations and inability to transfer occupational licenses from state to state.
The Shippers Group has recognized this need to help our veterans successfully transition to the civilian workforce and our HR team has made it a priority to do our part.
Last year, the Human Resources team at The Shippers Group successfully completed a SHRM course that focused on recruitment, hiring, retention, and engagement on military veterans and spouses. The certification is given to organizations that understand the needs of our veterans and military spouses. It is available to individuals and organizations that develop a progressive recruiting strategy by focusing on best practices to attract, hire, and retain those who have sacrificed to help preserve our freedom and keep us safe.
Our VP of Human Resources, Diane Villafana commented, "The SHRM course provided valuable insight into how we can better focus on hiring and meeting the needs for those who have served. We continue to focus on expanding our internal strategy to increase recruiting of veterans and military spouses."
The Shippers Group is proud to employ dozens of veterans, as they are some of our most hardworking individuals. Their unique experiences add leadership, dedication, endurance, integrity, empowerment and many other invaluable traits to our team.
We encourage other employers to educate themselves on this need and to do their part in helping these heroes and their spouses find a career that's right for them. For more information about earning your Veterans at Work Certificate, visit SHRM.org.
The Shippers Group is continually on the search for new talent. If you are a veteran seeking a new position, we encourage you to check out our job openings and apply today!
The Shippers Group was founded in 1901 and today employs over 1200 associates nationwide. For more information on The Shippers Group, visit our services page.