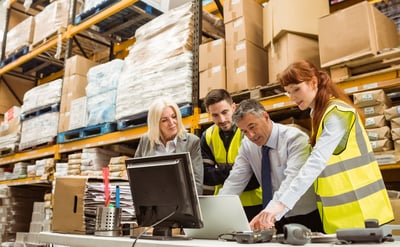 Manufacturers and distributors of goods need somewhere to store their goods prior to shipping them to their customers. When a good is produced by a manufacturer, seldom is it shipped immediately to the manufacturer's customer. One option for storing goods is a contract warehouse. A contract warehouse receives the goods and carefully manages inventory until those goods are ready to be shipped to a customer. A contract warehouse will handle the shipping, receiving, and storage of goods in a facility and with labor that is dedicated to the one account.


A large amount of capital is required to secure a building, purchase equipment and staff operations. Commonly the 3PL provider will already have space available within one of their existing buildings or will be willing to acquire space for the dedicated operation. Experienced contract warehouse operators are able to find the perfect location for the distribution center whether it is in an existing facility or building a distribution center from the ground up. Their solutions will include designing a layout for the building, implementing process, staffing and training, and equipment and tools to help ensure efficiency and customer service levels.

Contract warehousing agreements are generally for a specific service period. The duration of the agreement can vary with many commonly running between 3 and 10 years. These arrangements are ideal for larger manufacturing and distribution support for traditional retail, eCommerce and contract packaging solutions. In addition to including facility layout and design that is tailored to meet the business's unique needs, the contract warehousing provider will often provide the software and equipment accommodations for the warehouse management system.

In addition to basic warehousing functions of inventory management, order processing and shipping, contract warehouses often provide extra services for their clients such as packaging services, point-of-sale displays, labeling, and transportation management. Due diligence in the selection of your 3PL provider of a dedicated contract warehouse facility is of great importance as the relationship is intended to be a long term, so make sure your needs are a good match to the services your provider offers. A clear understanding of the service level requirements and commitment to operating procedures aligned to these service levels are fundamental to a successfully run operation.

For information about the contract warehousing services offered by The Shippers Group, please click here.