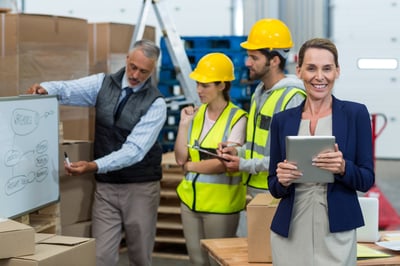 Your company has decided to partner with a 3PL provider to handle your warehousing and distribution needs and you approach your supply chain partner. What's next? Several onboarding steps should be taken with your supply chain partner to make the transition a smooth one. Many factors play into this transition. No matter the size and complexity of your business, and regardless of the type of agreement needed, i.e. public or dedicated warehousing, communication and planning are key to success leading up to and after the go-live date.
In a multi-client environment, your 3PL will prepare not only for the first inbound loads to arrive but also plan for how the business will be handled within the distribution center's existing operations. With each account having its own unique business needs, it is necessary for your 3PL to have a clear understanding of your own needs.
During the proposal process, your third-party logistics candidate likely asked you to complete a Customer Profile detailing all the storage and handling characteristics of your business. This general scope of work serves as a basis for your rate proposal and is fundamental to the Onboarding Process. At the beginning of this process, you and your newly selected partner should review the general scope of work again. This discussion will provide a foundation for how the distribution center will execute meeting your individual needs.
Your 3PL partner should have an Onboarding Checklist for gathering information needed within all functional areas. The list will cover key information such as daily contacts, invoicing, how orders will be transmitted, materials handling and equipment requirements and more. The process of onboarding is most efficient when the 3PL provides their new customer this checklist in advance of an onboarding meeting. This gives the customer an opportunity to compile the information and assemble the appropriate team members for an Onboarding Meeting. During the meeting, 3PL team members and the customer are able to talk through processes and procedures of the daily business.
Why is this so important to both the customer and the 3PL? No two customers are the same and no two 3PL partners are the same. Not only is the Onboarding Process valuable to planning, it minimizes opportunities for failed assumptions and begins to nurture the new relationship between the customer and the 3PL. Whether it's your first time outsourcing or you're changing providers, it is a time for both you and your 3PL partner to focus on enhancing your supply chain performance and it all begins during the Onboarding Process.
For more information on onboarding with your new 3PL partner, contact us here.