March is Women's History month, which is intended to recognize both the historical accomplishments and today's contemporary work of women. In celebration, let's consider the role of women in the Supply Chain and Logistics industry and why working in the industry is a great career choice for women.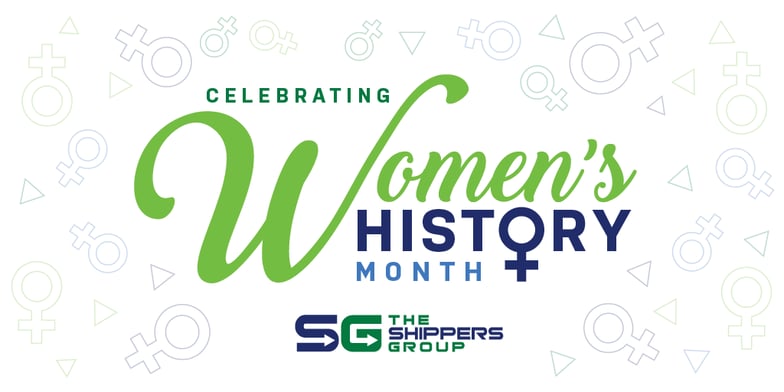 First let's take a look back. It has only been since the 1980's that women have become more active in the SC&L industry. It was about this time that progressive companies began to view logistics functions within their companies differently. Prior to that time, companies viewed logistics as a cost center mostly responsible for the tactical movement of goods within their supply chains and inventory control, and these functions were typically male-dominated jobs.
Since then, companies have discovered the value created when logistics and supply chain functions are more strategic. Collaboration of work flows, providing value-added packaging, performing quality control services, and working together to develop innovative technologies and equipment are examples of more strategic functions. This has resulted in the advancement of Supply Chain and Logistics to become less of a cost center with more opportunities to impact revenue and increase value leading to a favorable customer experience and stronger supply chain partnerships.
Integrated supply chains drive efficiency while lowering costs, and today women are more likely than ever before leading the movement.
Overall however, women are still a very small percentage of the SC&L workforce including manufacturing. It is estimated that women only make up about 25-30% of this workforce with only about 15% in top-level roles. The overall number of women in the industry has only increased slightly over the past three decades but more recently the number of women in SC&L leadership roles has gained some momentum and more women are expected to join the industry as ecommerce continues to grow. This could be due in part to a greater understanding of the importance of supply chains that provide essential goods and services. The COVID-19 global pandemic has significantly helped increase awareness of the importance of the food and consumer packaged goods supply chains, which might possibly motivate more women to pursue Supply Chain and Logistics careers.
Why is Working in the Supply Chain & Logistics Industry a Great Choice for Women?
There are countless opportunities. Supply Chain and Logistics careers span a broad range of disciplines and within these sectors are endless career possibilities:
Manufacturing and Production Planning
Sales and Customer Service
Procurement
Finance and Analytics
Companies are looking to diversify.

Diversity helps make companies profitable, innovative and respected and today companies are focused on diversifying their teams.

Better performing companies.

Women in executive positions can have a positive impact on a company's performance.

Thriving supply chains are based on successful collaboration.

Studies show that women are better at collaborative work than men.

Career progression.

There are positions and opportunities for growth at all levels from warehouse associates to the C-suite and everything in between.

Fulfilling work.

It's unlikely you'll get bored. If you have a passion for working with people and willingness to understand how what you do affects the big picture, a career in supply chain and logistics might just be what you're looking for. Whatever your role, you will play an essential part in making sure the right products are at the right place on-time and in the right quantity.
---
The Shippers Group is a leading national third-party logistics company headquartered in Dallas, Texas with distribution facilities in Texas, Georgia, California, Illinois, Florida, and Virginia totaling 16 locations and over 6.5 million square feet of space. To learn more about career opportunities at The Shippers Group, visit our Careers page.