Throughout the month of March, The Shippers Group is celebrating National Women's History Month by asking our associates about the importance of recognizing women who have played a pivotal or inspiring role in their lives. Today Maria Salazar, Warehouse Supervisor at TSG's Wintergreen facility shares about a woman she calls her hero – her mom.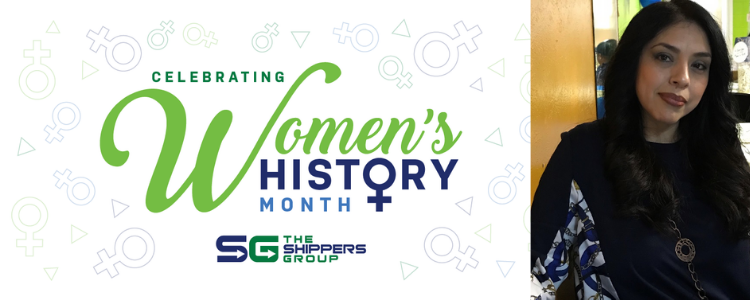 I would like to say that the woman who inspired me is someone famous or someone that society would say is inspirational; however, I can't say that. Nevertheless, my inspiration, my hero is the strongest woman I know. My mother, Andrea Salazar, was an immigrant who came to America just like many people do with a dream to have a better life. She came with my father Marcos Salazar. They brought 3 small girls with them, their daughters and my sisters, Maria M. Salazar, Cristina Salazar and myself, Maria T. Salazar. Sadly, my father passed when I was 7 years of age, and my mother became a widow and a single mother with 7 children.

We lived a tough life, not knowing what would happen to us. My mother received help from my father's family, and when the government opened an amnesty we all applied for residency here in the great U.S.A.

My mother was a determined and hard worker. She worked 2 jobs, even though she could not speak English, and she never applied for any food stamps/Medicaid. She financed her 7 children out of pocket, (and yes she had 4 more kids after me). She was a strong woman with a great work ethic and never once did I see her fail. She taught me that if we didn't make it here, in the USA, it's because we are lazy and have no desire to move forward. Amidst the challenges she was faced with, she never gave up and she instilled that will and drive to push forward in me. Simply put, because of her amazing influence and example, neither will I.

My journey has brought me to The Shippers Group. Here I have been able to grow and learn on a daily basis. Working here, I feel like a part of a family and am honored to take the role as one of their leaders. My prayer is that I can help associates here move forward and reach the goals they have set for themselves and the company. I want to pass along the strong work ethic, that was poured into me, to each person I have the privilege to lead. My goal is to teach and train them to take my place by becoming the next leader within the company.
The Shippers Group is a leading national distribution company with 13 operations in 6 states. The company employs about 1,200 associates and is committed to training and developing associates like Maria Salazar to have long and successful careers at The Shippers Group. For more information on current career opportunities with The Shippers Group, visit our Employment page.