Congratulations to Yvette Thomas who was recently named our WOW Award winner!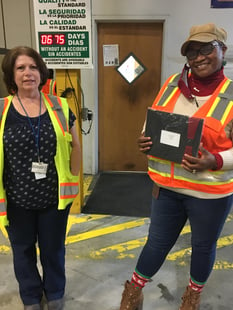 Yvette is a Customer Service Representative at our Jonesboro, GA Public location who joined the Shippers Group back in November of 2017. Since she has been with The Shippers Group, Yvette has time and time again shown herself to be a valuable teammate, providing superior service to our customers and always lending a helping hand.
Receiving praise from her Office Manager, Cathy Blondell commented "Yvette is a wonderful asset to our team in Jonesboro and to The Shippers Group." Following Cathy's remark, Chris Mills, Director of Operations – Georgia, also sang her praises, mentioning "Yvette always goes above and beyond for our customers as well as her teammates in the office and in the warehouse. She exhibits all the traits of our Core Values and we are fortunate to have her on the Shippers Team!"
Yvette was nominated and chosen as the recipient of this award on the criteria by someone who on a daily basis demonstrates our Core Values:
INTEGRITY: The foundation our Associates and Customers can depend on.

INNOVATION:

Driving positive change through continuous improvement.

EXCELLENCE:

Delivering quality service by focusing on processes and accountability.

SAFETY:

No compromising. Safety is our priority both to our Associates and Customers' product.
Not only is Yvette's hard work reflected internally, but also externally, with our customer commenting, "I have to commend Miss Yvette on a stellar job of coordinating all our shipments. She must have been an overachiever growing up as it is well reflected in the job she does for us!"
Congratulations, Yvette! Thank you for everything you do for us here at TSG!
---
The Shippers Group was founded in 1901 and today employs over 1400 associates nationwide. For more information on The Shippers Group, visit our services page.