Atlanta has quickly become an attractive place for manufacturers and retailers who are looking to relocate or expand their warehousing and distribution operations to the South. The state is home to about 900 million square feet of warehouse distribution space, with 600 million square feet of that located in metro Atlanta. With a talented workforce, higher quality of life, and lower cost of living, Atlanta is where more and more people are choosing to move and do business.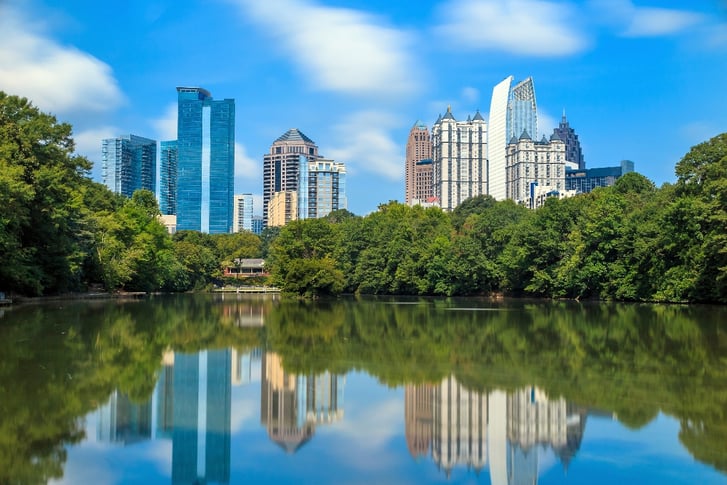 Here are some of the top reasons manufacturers and retailers are flocking to Atlanta for their warehousing and distribution needs:

1. Strong & Diverse Labor Pool
Georgia ranks as the #1 state for workforce development and Atlanta has been ranked as the #1 large college city in America. With more than 250,000 students enrolled each year in the region, Atlanta offers a well-educated talent pool and highly skilled workforce to staff operations.

2. Convenient Transportation
The best metro areas for distribution centers are areas with a supportive and vibrant transportation infrastructure—and Atlanta is one of the best! The city has convenient access to land, air, and sea transportation. When you do business in Atlanta, you have direct access to markets worldwide.

3. Cost Savings
Compared to other top distribution cities in the US like Los Angeles or Chicago, Atlanta has a relatively lower cost of living. This means businesses have access to the resources they needed at a lower cost than most metro areas. Georgia's tax structure is also one of the most competitive and consistent. With the lower cost of living, lower taxes, and more affordable real estate, these lower costs can give you a competitive advantage when choosing Atlanta for your distribution needs.

4. Innovation
Atlanta has a blossoming culture of innovation and technology. Home to more than 30 corporate innovation centers, Atlanta is ranked #6 in cities for corporate innovation, research, and development. You also have access to some of the brightest minds in the world here with universities like Georgia Tech being internationally known for producing top tech and engineering talent. With these universities leveraging more than $572 million a year for cutting-edge research, industries around the state partner with these technical schools to advance discovery and improve solutions.

5. #1 Place to Do Business
With all of these incentives, it's no wonder Georgia has been named by Area Development magazine as the #1 state for business for the ninth consecutive year. Georgia holds this title based on the state's low cost of doing business, corporate tax environment, business incentives, competitive labor environment, workforce development programs, logistics and infrastructure, available real estate, and more.

The Shippers Group operates 1 million square feet of multi-client distribution space in Georgia located just outside of Atlanta in Jonesboro and Austell. We offer a variety of services at these locations, including warehousing, distribution, contract packaging, transportation, ecommerce, and more. To learn more about The Shippers Group's 3rd Party Logistics Solutions in Atlanta or to request a quote, visit Contact Us.
---
The Shippers Group is a leading national third-party logistics company headquartered in Dallas, Texas providing supply chain support to brand leaders and market innovators in industries including food and consumer packaged goods. With food-grade multi-client and dedicated distribution facilities in the United States, The Shippers Group provides supply-chain solutions with outsourced warehousing, transportation, contract packaging, and e-commerce fulfillment services. Since 1901, The Shippers Group has relied on core values of integrity, innovation, excellence, and safety to grow customer relationships, focus on continuous improvement, and engage sustainable business practices that deliver results. More information is available at www.theshippersgroup.com.