On January 30, 2020 we blogged about Four Ways the Slowing Economy is Impacting the Third-Party (3PL) Warehousing industry. Our focus at the time was more on trade and political tensions with China and disruptions caused by Brexit. We had also seen a trend toward slower consumer spending. Although we mentioned Coronavirus, we really did not imagine what was about to happen in the U.S. and across the globe. By March 20th, the country was on lockdown. Already in a recession, who knew the impact COVID was going to have on the U.S. Economy?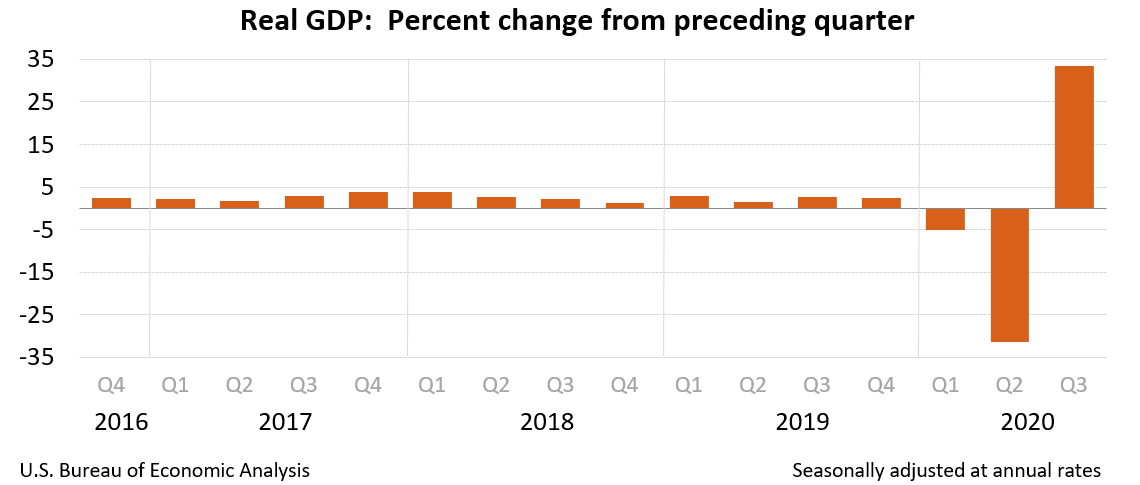 Source: https://www.bea.gov/news/glance
What we saw in real GDP in the first half of 2020 was a -36.4% decrease from Q4 2019, then a dramatic recovery of +33.4% in Q3 2020 and a 7.6% increase in Q4 2020.
The global economy is expected to accelerate in the second half of 2021 as we enter the post-pandemic era following vaccine distribution. "Headwinds to robust near-term growth include COVID-19-related lockdowns in early 2021, lingering consumer and business caution, diminishing fiscal support, and the strains of rising public and private debt. Yet, the reopening of economies and the availability of vaccines will gradually unleash a new wave of spending on travel and services. After a 4.2% decline in 2020, global world GDP is projected to increase about 4.6% in 2021."
How did COVID impact the 3PL Warehousing Industry in 2020?
Supply chain needs changed very quickly as pandemic buying ensued, retail outlets were temporarily closed, and people were forced to stay home.
This resulted in demand changes for 3PL warehousing when:
Food and CPG inventories decreased for many manufacturers early on in the pandemic.
Retailers and distributors with products still arriving at US ports needed short-term warehousing as many retail outlets closed and supply chains backed up.
A sharp increase occurred for ecommerce fulfillment services.
While 3PL Warehouses might have taken an initial hit to their storage and handling revenues when their customers' inventories decreased, this was followed by new demand for short-term space and ecommerce services. Many traditional 3PL warehouses have taken advantage of the opportunity to evolve and expand their ecommerce service capabilities.
5 Year Economic Forecast for 3PL Warehousing
Ecommerce—Given that ecommerce grew 30% in 2020, there will continue to be high demand for these services provided by 3PL warehouses for the foreseeable future.

Near Shoring

—Also as the pace to bring off-shore manufacturing back within the U.S. increases, so will the need for 3PL warehousing services. The total third party logistics sector, which includes 3PL warehousing, is estimated to realize a Compounded Annual Growth Rate of 7.1% over the next 6 years.
Rents—With high demand for real-estate, warehouse lease rates will continue to increase.
Labor—Even with an increase in unemployment due to the pandemic particularly among those within the hospitality, travel and service industries, the availability of labor within the logistics industry remains an issue as those unemployed choose to seek new employment opportunities elsewhere or have decided not to re-enter the workforce.
---
The Shippers Group was founded in 1901 and today employs over 1400 associates nationwide. For more information on The Shippers Group, visit our services page.