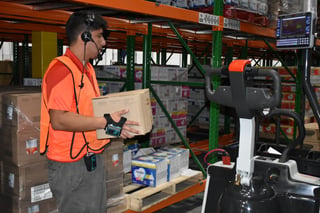 Contributing Author: Amy Landers
Speed and accuracy of the warehouse staff are keys to successful and profitable warehouse operations. Voice picking systems improve picking accuracy and efficiency. Pick-to-voice systems allow warehouse operators to focus on the picking process without looking at paper or a computer screen and use both hands to perform the pick.
The Shippers Group has implemented pick-to-voice technology in our Austell, Georgia facility with plans to roll out the technology to our other high velocity pick intensive distribution centers.
WHY DID THE SHIPPERS GROUP DECIDE TO IMPLEMENT VOICE PICK TECHNOLOGY?
We continuously look for ways to increase productivity within our warehouse operations utilizing process improvements and innovative technologies. Pick-to-voice systems have improved significantly in recent years. We decided investing in the technology and implementing throughout our network would save significant time and increase efficiency for accounts with a high percentage of case pick and each pick.
HOW DOES PICK-TO-VOICE WORK?
"Lydia" communicates real time with our WMS and relays pick instructions to the warehouse operator. Operators are trained on commands to use for communicating with Lydia. Lydia directs the operator in simple terms to the pick location and instructs which item to pick and the quantity to pick. The Operator responds to each function on their microphone with "Okay" as each function is completed.
WHAT WERE SOME IMPLEMENTATION OBSTACLES?
Learning how to communicate with Lydia and having wearable technology for the first time were initial obstacles that Operators quickly overcame. Operators were trained and initially given dialogue cards for their reference to quickly gain proficiency with Lydia. In fact, employee training has proven to be much quicker on voice equipment allowing Supervisors to more rapidly direct their training focus on specific account requirements. Our biggest challenge was adjusting our network capacity to be able to handle the additional demand on our network. Fortunately, we had a persistent team that worked swiftly and tenaciously to diagnose and resolve the issues.
HOW ARE WE TRACKING PICK ACCURACY AND PRODUCTIVITY IMPROVEMENTS?
Because information is real-time, Supervisors monitor throughout their day the flow of orders and the number of cases picked. Information supports decisions for optimal layout and product positioning of higher velocity skus. 30% improvement in picking productivity and 99.9% pick accuracy contribute to rapid ROI for voice pick systems.