Congratulations to The Shippers Group associates who recently completed the Emerging Leaders Program!
In March of 2021, eight TSG associates began their journey in The Shippers' Group Leadership Academy with the set goal of becoming well-rounded servant leaders. Through the use of soft and hard skill development work, the course centered around the belief that building better leaders will lead to greater levels of success for both the individual and within the organization.
Throughout 12 virtual sessions, these associates did a deep dive into personal and professional development using written text, workbook materials, role playing, lecture, assessments, and group and individual exercises. Facilitated by Chip Scholz of Scholz and Associates, these associates walked away from this course with:
Tools to communicate more effectively
Tools to make informed decisions and grow in their problem-solving abilities
Personal and professional discovery and growth
An understanding of how servant leadership fits the organization
A deeper understanding of their behaviors, motivators, and personal skills
Development of their own coaching style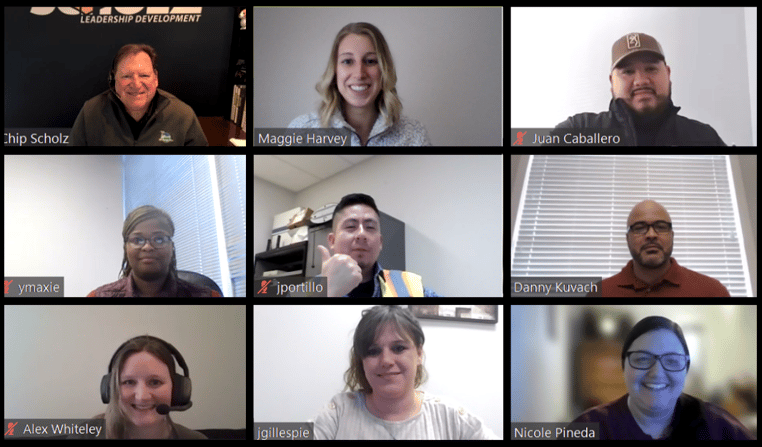 "This diverse group of individuals continues to show great work in their roles—both past and present—and have demonstrated the ability to be strong leaders for our company. We are proud of how far they have come, and it is great to see the impact this course has had on their personal and professional development over the last ten months. This course has equipped them with the tools and skills needed to succeed as they tackle their current duties and prepare for the next steps in their careers. The Shippers Group remains committed to continuously improving our operations and culture, and we are confident that this investment has helped develop them for future growth and in ensuring The Shippers Group is sustained long term."

—Rob Doyle, President


Congratulations to our Emerging Leaders
Your completion of the Emerging Leaders Program is to be celebrated!

Juan Caballero, Operations Manager
Jessica Gillespie, General Manager
Maggie Harvey, Sales & Marketing Support Specialist
Danny Kuvach, General Manager
Yolanda Maxie, Account Manager
Nicole Pineda, IT Manager
Jose Portillo, Operations Manager
Alex Whiteley, Industrial Engineer & Continuous Improvement Manager
---
The Shippers Group is a leading national third-party logistics company headquartered in Dallas, Texas with distribution facilities in Texas, Georgia, California, Florida, and Virginia totaling 13 locations and over 5.5 million square feet of space. In addition to warehousing and transportation services, the company provides contract packaging and e-commerce fulfillment to the food, consumer goods and automotive industries. The Shippers Group was founded in 1901 and today employs over 1,500 associates nationwide.