The Shippers Group takes caring for our environment very seriously. As an Inbound Logistics Green 75 partner, we recycled 7.5 million pounds of cardboard, paper and plastic last year. Additionally, TSG is focused on energy efficiency and water conversation within our 16 distribution facilities. With more than 6.5 million square feet of warehouse space and hundreds of pieces of materials handling equipment, we are continuously looking for new ways to improve environmental sustainability.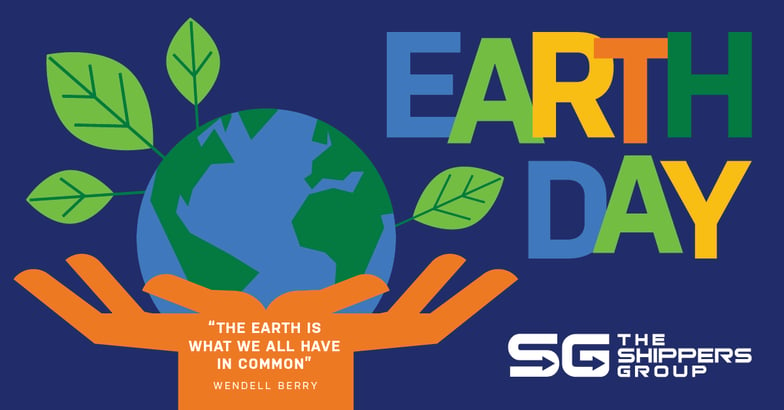 Earth Day brings focus to the importance of our climate and environmental preservation. At The Shippers Group, we encourage our associates to also reuse, renew and recycle at home. Recently we asked a few associates about things they already do as a part of their lifestyle to help save the environment.
Darlene Ellison, Customer Service Representative said, "I reuse or recycle plastic, paper, cardboard, and aluminum cans."
Unfortunately, garbage and debris litters many waterways. The worst is the Great Pacific Garbage Patch in the North Pacific Ocean, but sadly all too often we can find this problem in our nearby streams and lakes. Laura Monks, Office Manager at our Wintergreen facility in Hutchins, TX said that she cuts up the plastic six-pack rings so that if they find their way to a waterway, ducks can't get their heads stuck in them.
Did you know that it takes up to 1000 years for a single bottle of water to decompose, and U.S. landfills are overflowing with more than 2 million tons of discarded water bottles? Maggie Harvey, Sales Support Specialist carries a reusable plastic water bottle with her everywhere she goes. In addition, she uses sustainable, reusable and plastic-free products in her home with products she purchases from a plastic and carbon neutral company.
Even small lifestyle changes can have a big impact of preserving our environment for future generations. We challenge you to think of at least one thing you already do or are willing to start doing that will help sustain critical resources.
Below are some additional ideas to help get you started:
Reusable grocery bags
Make your own cleaning products
Turn off the tap while brushing your teeth
Use leftover drinking water to water your plants
Unplug charging cords for your electronic devices when not actively charging. A cord plugged in is wasting energy.
All big things start with one small thing.
---
The Shippers Group is a leading national third-party logistics company headquartered in Dallas, Texas with distribution facilities in Texas, Georgia, California, Illinois, Florida, and Virginia totaling 16 locations and over 6.5 million square feet of space. To learn more about career opportunities at The Shippers Group, visit our Careers page.