At the Transportation Marketing and Sales Association (TMSA)'s annual conference in Orlando, The Shippers Group's very own Vice President of Marketing and Customer Solutions, Robin Siekerman was awarded with the prestigious Marketing Mountain Mover of the Year award.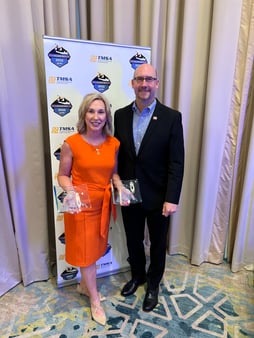 This particular award recognizes instrumental individuals in the industry whose achievements, performance, and vision have helped shape their company or the industry at large. Robin would certainly fit that description as she plays an instrumental role in the marketing and sales efforts at The Shippers Group.
We are fortunate to have someone of Robin's caliber at the helm of our marketing efforts as her professionalism, integrity, and passion for her work are unparalleled.
It was a pleasure and an honor to attend the inaugural Trailblazer Awards with Robin. It was also a great experience to watch her accept the award and hear her acceptance speech. Robin's speech gave recognition and focus not only to the TSG team, but also to our Lakeland, Florida-based branding and strategic marketing partners, MADE who were also able to join us at this event. This just highlights her humble and graceful nature and her team-first attitude. While the spotlight was on Robin, she was shining that light on our team as a whole.
For almost five years, Robin has been pushing us forward in the areas of marketing and sales while she skillfully communicates what makes The Shippers Group an exceptional third party logistics partner. We continue to benefit from her ongoing desire to identify strategies that share our company's story with the industry through branding, marketing, and public relations. Robin is always looking for innovative ways to market the company and does it in a very authentic way.
The entire TSG team congratulates Robin on her Marketing Mountain Mover of the Year award and we thank the TMSA for recognizing Robin's outstanding efforts on behalf of our company and the logistics industry at-large.
---
The Shippers Group is a leading national third-party logistics company headquartered in Dallas, Texas with distribution facilities in Texas, Georgia, Florida, and Virginia totaling 11 locations and over 5.3 million square feet of space. In addition to warehousing and transportation services, the company provides contract packaging and e-commerce fulfillment to the food, consumer goods and automotive industries. The Shippers Group was founded in 1901 and today employs over 1,500 associates nationwide.