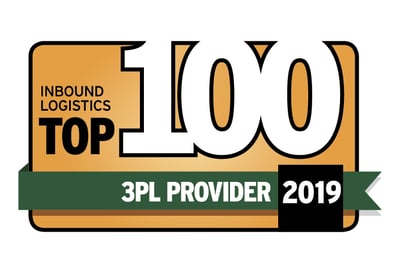 The Shippers Group has been selected from among hundreds of companies who submitted credentials as one of the Top 100 3PL Providers. The Top 100 list appears in the July 2019 edition of Inbound Logistics. Criteria for selection includes geographic coverage, markets served, logistics services, warehousing services, transportation services and innovation. About being named to the Top 100 List, Rob Doyle of The Shippers Group said, "We are extremely pleased to be included among the elite 3PL providers in the Supply Chain industry. For over 118 years, our goal has been to provide the highest level of service and value to our customers."
Inbound Logistics' Top 100 3PL Provider's list serves as a qualitative assessment of service providers that Inbound Logistics feels are best equipped to meet and surpass readers' evolving outsourcing needs. Distilling the Top 100 becomes increasingly difficult as more 3PLs enter the market and service providers from other functional areas develop value-added logistics capabilities. Each year, Inbound Logistics editors select the best logistics solutions providers by carefully evaluating submitted information, conducting personal interviews and online research, and comparing that data to our readers' burgeoning global supply chain and logistics challenges. The service providers selected are companies that, in the opinion of IL editors, offer the diverse operational capabilities and experience to meet readers' unique supply chain and logistics needs.
The Shippers Group is innovative in it's use of technology and methods to improve space utilization and labor efficiency. Leading the industry with 11 distribution centers in five states coast-to-coast, over 1,200 associates are employed at The Shippers Group. Our teams provide warehousing, transportation, contract packaging and e-commerce services backed by core values of integrity, innovation, excellence and safety.
For more information on how The Shippers Group can become your supply chain partner, visit us here.